Welcome to Something Sew Fine Quilt Design!
---
"

Let the beauty you love be what you do.
– Rumi
************************************************
Between spring 2019 and fall 2020, I have been transitioning from full-time professional quilt pattern designer and teacher to a laid-back occasional pattern designer, quilt artist and author. I am also learning to live in this new strange world of viruses, social distancing, and quarantines. I miss being able to vend at quilt shows (they have all been cancelled) and travel.
Please stay safe!
You can find me on Facebook under Cary Flanagan (personal) and
Cary Flanagan, Something Sew Fine Quilt Design (business). Please "Like" me by clicking on the FB button at the top of this page. Facebook is a great way to keep up with what's going on in my life and my work and to get to know my quirkier side! See you there!
I am currently working on a sequel to my first novel, "After the Storm" which does not yet have a finalized title.
Stay tuned!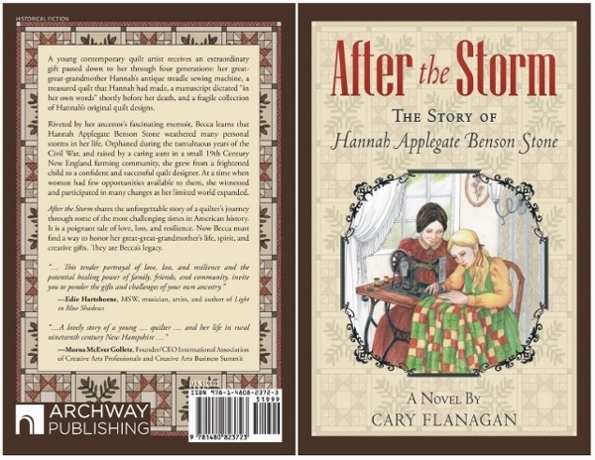 This the story of Hannah, a young quilter growing up in a New England farming community during the tumultuous 19th and early 20th century. Told as a memoir, it is a poignant tale of love, loss, and resilience. Orphaned very young and raised by her Aunt Rebecca, Hannah matures from a frightened child to a self-confident and successful quilt designer and businesswoman at a time when few opportunities were open to women.
After the Storm is the first in a series about several generations of quilters.
Here is an excerpt:
"As I left the barn, I felt the wind strengthen and the first drops of rain began to fall. I called to Sunny and told the children to wash up while I returned to the cabin to prepare dinner.
"By the time I tucked Sarah and Jacob into bed, the storm had struck full force. The wind and rain hurtled down the lake, churning the water into white froth. When it reached our cove at the south end, it slammed into the woods, whipping trees around in a frenzied dance. Flashes of jagged lightening cut the night sky and thunder crashed so close to the house that the log walls shuddered....
"Inside our little fortress, I kept a fire blazing in the large fireplace, and two kerosene lamps shone brightly in an attempt to ward off the darkness and fury of the storm. The windows rattled ominously and the walls vibrated while all around the cabin I heard trees snapping like matchsticks and the wind moaned and howled.
"Sarah and Jacob were frightened and huddled under one of my patchwork quilts near the fire. I comforted them as best I could.... I was frightened too."
Available in softcover and hardcover from the "Patterns" Page
I will personally autograph each copy sold from this site
Books will be sent via Media Mail to US addresses only
For sales outside the US, please contact me directly for shipping information
Available on Consignment at local quilt shops.
Also available as an e-book from Amazon.com and barnesandnobles.com
*****************************************************

My patterns are available as pdfs via e-mail - no postage and handling fees and (almost) no waiting! Simply choose a pattern, click on the 'buy now' button (ignore the box asking for your 'Destination Zip') and in the "Instructions to Merchant" (in Pay Pal) indicate you want the pattern sent as a pdf via e-mail. You may also request the pdf by contacting me through the Contact form or by e-mail.

Unfortunately, because of the EU VAT (European Value Added Tax) rules which went into effect January 1, 2015, I will no longer be able to sell my patterns as pdf's to customers residing in the UK or any member country of the EU. I have been forced to put a block on any sales that are made in currencies other than US dollars. I apologize for this inconvenience.
You may also purchase any of my patterns and my book through www.quiltwoman.com
Contact me directly by clicking on 'Contact' button and filling out the form.
******************************************************************
My quilt patterns are published and distributed by Nancy Dill Designs, Inc. d/b/a QuiltWoman.com publishing Co.
_____________________________________________________________________________________________________________________________
All purchases may be paid for on-line through Pay Pal. You may also pay by check. Any purchase made by check will be shipped after the check clears. Shipping/Handling will be added at checkout or by arrangeement for packages being sent outside the United States..


To find out more about me and my work, please click About Me. Feel free to
Contact Me
with any comments or questions you may have. I would love to hear from you!

Last updated 8-2-2020